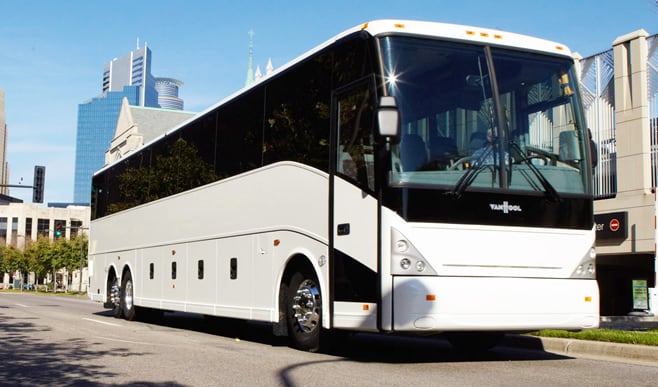 Charter Bus Rental New Jersey
Accessible Transport
If you're looking for the best Charter Bus Rental New Jersey has to offer, look no further than Corporate Express, Inc. We've been serving the community for over thirty years arranging premium rental transport solutions at accessible and affordable prices. Our bus rental rates have given us a top-shelf reputation as one of the most accessible options available to those seeking decent rental transport.
We pride ourselves on providing bus rental prices that don't break the bank and yet still provide you with a quality service and vehicle match. Our experience means that we know exactly what it takes to arrange your transport and deliver you and your guests to your destination with total ease.
We pride ourselves at Corporate Express, Inc. on providing total flexibility, meaning we listen to your requirements, look at your itinerary and help you create a quote that you're happy with, so much so, you'll wonder why you didn't opt for rental bus transport sooner.
Something for Everyone
Providing some of the best Charter Bus Rental New Jersey has to offer means having a diverse fleet of vehicles on hand. We don't just offer charters either, we can also provide long distance charter bus rental, minibus rental, passenger van rental, and even limousines should you require them. We truly are a one-stop spot for your travel solutions across New York and beyond.
Our expert team of drivers has been successfully delivering clients to their functions, business conventions, sporting events, and gigs for decades. With a deep knowledge of the best routes available, you can have peace of mind knowing you and your guests are in the hands of a capable professional driver.
Total Convenience
You won't believe how carefree and easy rental transport can be in comparison to the stresses of using public transport, especially with a group. It is hard enough being on time just by yourself, using public buses and trains but making sure your group gets to the destination on time too is even more complex. At Corporate Express, Inc. we go above and beyond to create an accessible alternative to public forms of transport that will make you wonder why you bothered stressing about it. Our goal is to let you focus on your day and let us handle the journey.
Affordable Solution
At this point you may be wondering, how much does it cost to rent a bus? That depends on your specifics, such as destination, group size, and additional requirements however we do ensure that each quote is carefully looked after by an expert customer service representative who'll work hard to bring you good value and a quality transport solution.
Given we have a vast fleet of vehicles, we can cater to groups of any size and the beauty of our already affordable rates is that you can split your expenses across your guests making our already great value even more extensive, almost rivaling public transport in terms of expense.
Decades of Experience
We have over thirty years of experience offering a range of rental bus services including some of the best Charter Bus Rental New Jersey has available and we've successfully done this for so long because we are customer-focused. We pride ourselves on crafting an effortless experience for you, from organizing a quote and booking with us, to stepping foot on one of our many finely tuned rental buses.
Easy Booking Process
Offering some of the best Charter Bus Rental New Jersey has available is something we are proud of at Corporate Express, Inc. and our dynamic team of friendly customer service members are ready to make your journey completely carefree and one to remember. Leave behind the stress of public transport for your next event and let us do what we do best, deliver premium rental transport at affordable prices.
Summary
Reviewer
Review Date
Reviewed Item
I would highly recommend using this service. Our driver was punctual and professional, and the vehicle was very comfortable.
Author Rating





Product Name
Charter Bus Rental New Jersey
Price
Product Availability