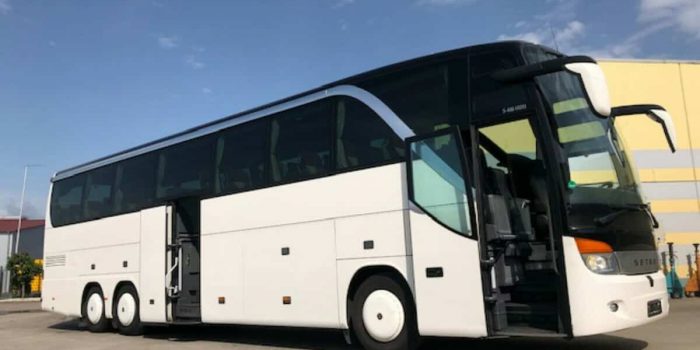 Flexible Travel Solutions
If you're tired of looking at a bus schedule or transportation websites to figure out how you're going to get you and your group to your next function, look no further than Corporate Express, Inc. We are one of the premium rental vehicle and transportation solution businesses in New York and we've spent three decades in the industry providing quality travel solutions for affordable prices.
Providing a great rental Bus Service New Jersey means understanding our client base and we take great pride in the fact that we do. We've done this by continuing to remain flexible and adaptable depending on your needs. Whether you need a bus, minibus, van, charter bus, coach bus, or even a limousine Corporate Express, Inc. can arrange exactly what you need no matter your party's size.
Anywhere, Anytime!
Corporate Express, Inc. is a great choice for any occasion whether you're trying to get your family and friends to a wedding or your sporting team to the big game, we can provide a Bus Service New Jersey that is unrivaled by any other rental company.
Our drivers are both friendly and professional with a deep knowledge of the streets and the best routes to take to get you and your group to your destination on time and ready for the big day ahead. The stress of arranging everyone's transportation can be a nightmare and with us by your side, you won't have to worry about any of that and will be able to just focus on the things that matter most to you.
Consistent Quality Transport
Corporate Express, Inc. works hard to ensure that we deliver you a complete convenient experience whilst traveling with us. We aren't just in the rental transportation business, we're in the peace of mind business. We strive hard to deliver consistent quality in our vehicles, customer service, and drivers for every single client that books with us.
Our Bus Service New Jersey is incredibly flexible and can include if needed, disabled access as well as WIFI connectivity options for those clients that want to stay connected throughout their journey with us. Our extensive experience in the industry means that we've thought of everything you could need with your rental transport and can fit your needs comfortably.
Affordable Alternative
Our Bus Service New Jersey is surprisingly affordable and a fantastic alternative to other forms of transport including taxis, trains, and public bus routes. Our prices are specifically crafted to be competitive and reasonable and will make you wonder why you haven't tried rental-based transport with Corporate Express, Inc. before.
Our clients often split their costs among their traveling party which increases our already amazing value, rivaling the costs involved even with public transport and public buses and trains. We aim to deliver you equality good value and services and have been successfully doing both for decades now.
We Value Your Time
Our three decades of experience have allowed us to fine-tune our services from efficiently putting together quotes for our clients – we understand your time is valuable – to effectively getting our clients to their destinations promptly and on time. We're sought after by clients because we're reliable and allow you to focus on your day rather than the small details of how to get to and from your venue.
Simple Bookings
Our customer service team strives to create a fun, engaging, and easy quoting experience that will leave you satisfied every time you book with us. Corporate Express, Inc. is attentive and has an eye for detail, so we can ensure that nothing in your request for transportation is missed so we can provide you with tailored rental transport and schedule to suit you perfectly. Once you travel with us, you'll be calling us again!
Summary
Reviewer
Review Date
Reviewed Item
Pre-booked for the first time. Can't fault you on anything. Will definitely be booking with you next year
Author Rating





Product Name
Price
Product Availability