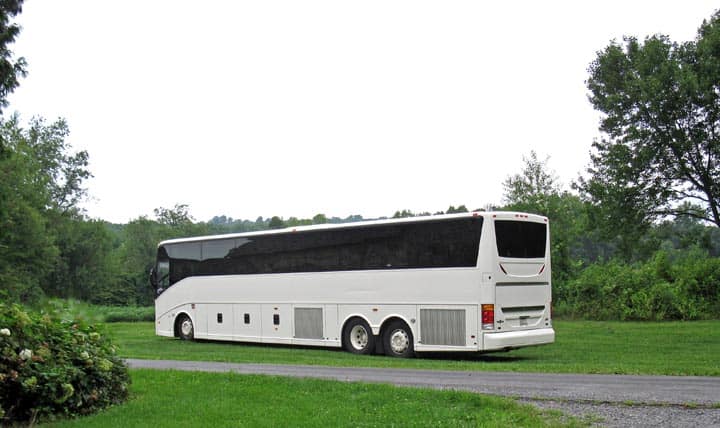 Premium Bus Rental Service in Brooklyn, NY
Being the most populous county in the state, traveling around Brooklyn in a group with public travel is a recipe for disaster. Hiring a bus rental in Brooklyn is a smarter choice, not only for your comfort but also for your safety and peace of mind. Corporate Express, Inc. happily provides bus rental services in Brooklyn and have done so for many years, with a reputation spanning over 30 years! We believe that the journey to-and-from an event, as well as for sightseeing tourists, is crucial to the memorable outcome. With that in mind, our team is dedicated to ensuring your utmost safety and 100% satisfaction when traveling privately via bus rental around Brooklyn.
Corporate Express, Inc. maintains a high level of cleanliness, professionalism, and friendliness when carrying out services for our clients. Whether it be a bus rental for parties, weddings, guys/girls nights, reunions, sporting events, corporate events, sightseeing, concerts, festivals, marathons, and more, when you choose private bus rentals over public transport, you're choosing a safer and more enjoyable alternative. Group travel can be tricky to organize, but not with us – simply contact our team, discuss your requirements, and we'll put together a special quote while taking care of all of the little details you might miss. Punctuality, safety, and comfort are the three most important things on our mind when you work with us – so rest assured, you'll start and end the day with a smile on your face the whole time.
Our Bus Rentals include various types of buses in different sizes and levels of luxury depending on your needs. We'll make a recommendation based on your requirements, but ultimately, you can choose your preferred vehicle! Renting a bus in Brooklyn will be the best choice you ever made for you and your group with Corporate Express, Inc.
Give us a call today so we can discuss all the details regarding your bus rental in Brooklyn.