Do you need to travel in elegance to an important event?
We provide a wide variety of party buses and other high-end vehicles. As an alternative to the current cars in our fleets, we can provide your event with a one-of-a-kind antique coach bus. NYC Coach Bus Rental are an excellent choice for any special occasion you have planned and need a unique vehicle to accommodate. Incorporating coach buses into your celebrations will give them an extra distinctive flavour. If you need to transport several people to the exact location simultaneously, a New York charter bus is an excellent option.
Weddings
Hire a coach bus to transport you and your guests to and from the wedding location. Ribbons in your chosen colour scheme can be used to embellish your bus. Your guests can be transported from one place to another using this method of transportation.
Organizational gatherings
Is there a company-sponsored event coming up? Don't pass up the chance to make a big impression on your audience by using a coach bus. Make your corporate event stand out from the crowd by renting coach buses for it.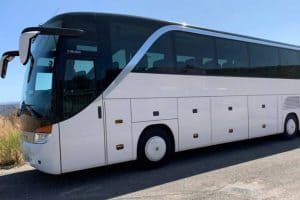 NYC Coach Bus Rental offers an ever-expanding fleet of well-maintained and artistically decorated coach buses that can be hired for any occasion. In the New York City area, we have one of the largest and most up-to-date fleets of coach buses. For any special event, you can count on us to provide exquisite transportation. We'll get you to your destination in luxury, thanks to our knowledgeable and friendly chauffeurs.
Contact us to see if your desired dates are available. Corporate express Inc can provide you with a luxurious mode of transportation. The best thing to do is to get in touch with us to see whether we can meet your needs.
We look forward to being your go-to source for all things transportation.
Proms
Make a memorable entrance with your date or group of pals on prom night. If you have a nice-looking car, you can pose for photos with your buddies. Make a lasting impression on your guests by providing them with the royal treatment they deserve on their special day.
You can rent a bus for sporting events of any kind.
With a massive group of friends and family, are you going to the big game? We will handle travel arrangements. Renting a charter bus in New York is an excellent option to transport your group to a sporting event.
Top Advantages of Using an NYC Coach Bus Rental
If you need a luxury and easy mode of transportation for any event or celebration, such as a birthday party or wedding, Our company offers top-notch NYC Coach Bus Rental. With New York's most trusted bus transportation provider, you can get to the hottest clubs, casinos, restaurants, and other party sites in the Bronx, Manhattan, Brooklyn, Staten Island, and Nassau County. Avoid a service that doesn't know New York as well as we do. "The correct way" is how we do Party Bus Rentals.
·       Expensive per-head cost
·       Timing issues, whether caused by heavy traffic or anything else
·       Because you're travelling alone, expect a dull and lifeless journey.
Plan ahead
Your NYC Coach Bus Rental should be booked under one group rental to ensure that your group travels together! This will not only save you money and time, but it will also make the trip more enjoyable for everyone in your company. To see everything you want to see en route, renting a Coach Bus from Corporate Express Inc is the best alternative. In addition to their sumptuous interiors, these buses have a slew of features you won't want to miss.
Conclusion
Finding an NYC Coach Bus Rental that is both reputable and luxurious might be rugged. We simplify the process. Get to your next event on time with our well-trained professional drivers as you relax and enjoy the ride!